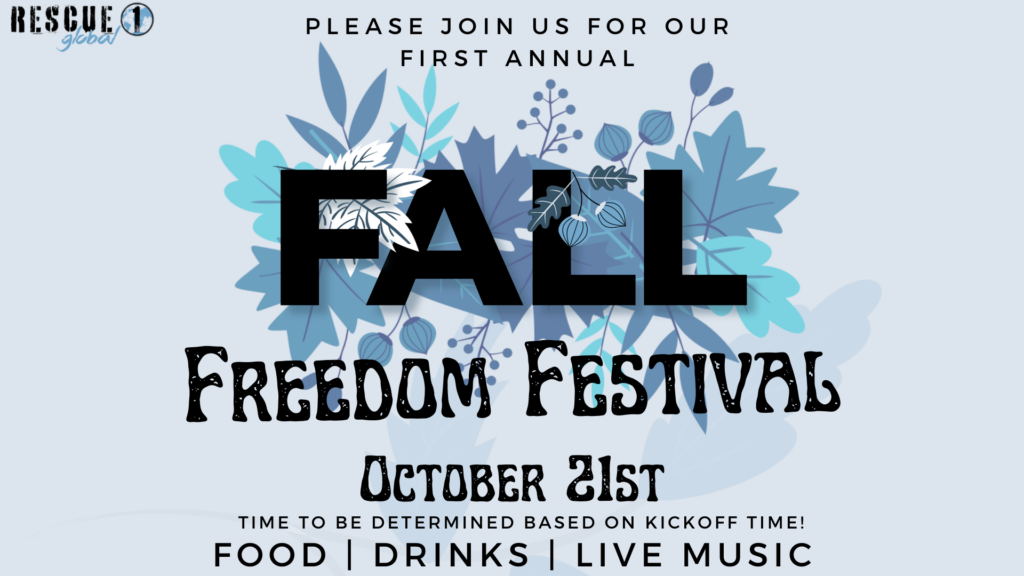 Rescue 1 welcomes you and your family with open arms to the first annual Rescue 1 Global Fall Freedom Festival. The festival starts with an awesome lineup of musicians and will host great food trucks, face painting, competitive games, and other activities for lots of fun for everyone.
We will have the Tennesee vs. Alabama game live in the Barn with food and refreshments.
Please note that the time will be updated closer to the date of the event. We're waiting for the SEC to announce kickoff time for the Tennessee vs. Alabama Game!
You can purchase your family tickets, as well as enter our Cornhole Tournament and Pumpkin Bowling Tournament, below. Just click 'Register'!
So come prepared to have loads of fun on a beautiful fall day while supporting Rescue 1 Global in our mission to fight human trafficking here and around the world!
Location: Double Barrel Angus, 6818 Flat Creek Road, College Grove, TN 37046
Date and time: Sat, Oct 21, 2023, TBD based on SEC Kickoff Time
Organizer: Rescue 1 Global, (615) 348-7273, [email protected]
Sponsor the Fall Freedom Festival