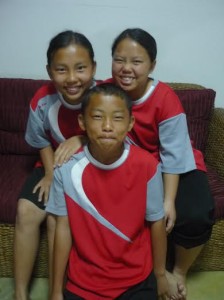 There are so many stories.
So many tales of loss and devastation, but now so many stories of hope.
In the picture above is a young girl named Maa and her two siblings.
While doing VBS in their local village, with the No More mission team; R1G founders Lacy and Daniel Tolar, along with the national leaders on the ground discovered them as they completed The Least of These Risk Assessment in August 2013.
Aged 13 and 14, the two sisters revealed that their parents were dead and they were fending for themselves and their younger brother, who was being lured into recruitment of a local gang by video games and promises.
Although an older boy was sent by neighbors to live with them for "protection", it was discovered the girls had experienced exploitation. With no education, no means of support, and no one to defend them, few children could be in a more vulnerable position.
Living in a half-finished home, the three children slept on dirt floors beneath a bamboo tin roof. Surrounded by concrete walls and minimal lighting, the siblings lived in these desperate conditions.
Unlike most children in the Western world, they did not have modern conveniences or the latest electronics. However, like all children, they kept their dearly-held dreams.
Along the dark concrete walls were a few carefully drawn pictures that represented hope. Their father had recently died, so one of the girls had drawn a picture of their whole, united family with a home in the background. Beside it, pictures of new, brightly-colored dresses signified the wistful wishes of two girls who wanted pretty clothes but had only the rags they wore.
While many families have family photos on the wall, they had only the childish drawings of what they wanted the most: a safe home and family.
Convinced that the spirit of their recently-deceased father lived with them in their home, it took four months to win the hearts of these precious children. And, with the help of No More, an organization dedicated to raising awareness and calling people to action to meet the tangible needs we see in the world around us, we were able to help move the children to a safe place: The Village of Hope.
Once they had made the transition, Lacy Tolar was able to witness all three children read the Bible in unison and asking questions about the stories they were reading. Rescued and restored, these children now have a chance at a life of hope!
If you would like to Sponsor Maa or "1" of her siblings or another child go to Sponsor1Today.com!