Mark Rempel's testimony and experience as a participant on one of the R1G Thailand trips on Mother's Day last August is moving and powerful. He understands that when a child does not have the nurturing bond of a mother, there will be a certain void only a mother can fill.
As a child, Mark never knew his birth mother and could relate to the young foster children he met in a unique way:
It's the Queen's Birthday in Thailand today.
A holiday that they affectionately call, "Mother's Day."
I never knew my birth mother. At birth, she held me for a few moments, maybe even a few minutes at best. I wonder what she saw. Did she run her fingers through the hair on my head? Did she look deep into my eyes and think about what I would become? Did she kiss my brow and wrap her hands around my tiny fingers?
I try to think about it sometimes. What she was like. Did her hair cascade down over her shoulders? And her smile, I wish I could see it.
What did she feel when they took me away? I want to believe her arms locked up and her hands didn't give way. That she asked for one more minute before putting me into the hands of that nurse who would whisk me to the arms of another. Did she cry? Did tears flow down her cheek? Did she know she would never see me again?
I thought of her yesterday.
We celebrated "Mother's Day" with about twenty-five foster children from the local area of Chang Mia. Little girls, little boys who didn't have a mother, either. Some of them stayed with aunts and uncles. Some of them were with foster parents or distant friends and relatives. What brought us together was the fact that at some point in our lives…we were without a mother.
Mothers are so unique. Created to be a part of God's plan, they have such an important role to play. They are maternal. Their embrace is unique and like no other. They speak a language of love without ever saying a word. They represent the heavenly Father's heart. He is reflected in every mother, in every culture. No matter how good or bad they may appear, down deep a mother is like no other and has God's instinct to love and care. Sometimes it just gets lost on life's journey. Like my mother.
These children who are under the supervision and care of Rescue 1. The ministry makes sure they are in good homes, have food to eat, receive education and get a chance to come to church to learn about the one who heal their soul…Jesus. And it was at church that I met them. With a special presentation at hand, these beautiful little ones prepared a song about how they felt about their invisible "mums."
The chorus of the song went something like this –
"I may never know your touch…
Or feel the warmth of your embrace.
There's a place on my pillow that you will not lay.
I may never hear you reading to me
Or see you in the everday…
But I will pray for you, oh, my mother."
It wasn't the typical children's musical number I'm used to hearing. It was honest. It was real. From their hearts they sang about something they know all too well. But, there was hope.
The intention was to let them know that although they may never have a mother, God has provided something special that can represent and fill the hole that seems to be at the center of the heart.
After the song, the local pastor asked for every mother in the building to come to the front. Mothers from all walks of life stepped up. Some had small children. Some had just one. There was even a mother-to-be.
We prayed for the mothers and blessed them.
Then, the mothers blessed all of us. Without hesitation, the pastor asked each of the motherless children to come and find one of the mother's up front. Stepping forward, tiny hands and feet found themselves on their knees looking up at a real person. A real mommy. An advocate. A real touch.
A beautiful moment transpired. Each mother laid her hands on every child and prayed a prayer of blessing over them. Tears flowed. Kleenex boxes emptied. Lives were changed.
These simple women were transformed into the hands and feet of Christ. God was there embodied in the life of these special ladies and they did what no one else could do. Not a man. Not a father. Not a friend or a brother. They loved these little ones like only a mother could.
It only lasted a few minutes. But what I saw in the eyes of those children I knew would help carry them through a lifetime.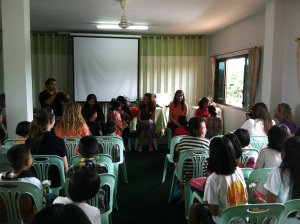 (Every mother in the building is blessed)
(Each foster child was prayed for and loved on by these amazing moms as they blessed)
So, my friend, it may not be "Mother's Day" where you come from. No Queen. No birthday to celebrate. You may not even be a mother. But, God wants to use you. Somewhere in your world, in your day, in your life is human being that needs you to be the hands and feet of Jesus. Will you reach out your heart and bless them? A smile. A hug. Words of encouragement. Just love…
Because love, God's genuine love, takes out the fear of living without love. Or, without a mother.
"There is no fear in love. But perfect love drives out fear…" 1 John 4:8 (NIV)
I know I may never know my birth mother but I'm so grateful God did give me a mum. Her name is Hilda. She has been the hands and feet of Christ to me filling the hole in my heart shovel load after shovel load with her love. And even though it's not "Mother's Day" back home, I still wish her the best. For she truly is a great "mother."
–
Show love this Mother's Day by supporting a project that will go to fund a restoration home for 60 young women in Northeast Thailand. Donate here!
Re-blogged with permission from A 1000 Words blog. Read more at http://a1000wordsblog.wordpress.com/2013/08/12/a-mothers-love/